New & Easy Way To Measure!
This is the new and inventive approach to gauge quicker, less demanding, and all the more adequately! We have 3 Different Measurement Mode – roll mode, tape mode, & laser mode. All you need is on this tape measure.
✅ Accurate to 1/100th of an inch
✅ 3 Different Measurement Mode – roll mode, tape mode, & laser mode.
✅ Durable – Made of heavy-duty and durable construction grade material to handle any project. Perfect for work or home!
✅ Measure Anything – Curves, Irregular Objects, Straight Lines, Large Distances & More!
✅ Features a bright LED digital readout, has built-in memory storage, and can easily toggle between standard and metric units.
✅ The battery lasts up to 8 hours of continuous use
✅ Roller Mode: Measure any curved surface or irregularly shaped objects just by rolling the attached wheel for length or distance. It's so simple you can do it with just one hand!
✅ String Mode: Allows you to easily and accurately measure around objects! The String Mode allows you to measure anything rounded without limitations
✅ Laser Mode: For those long and hard to reach areas there is Laser Mode! Just point the laser and measure distance instantly!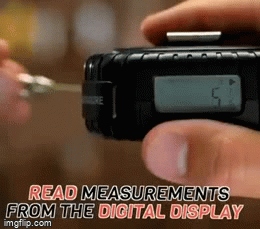 HOW TO USE:
1️⃣ Press the first button and then quickly press the third button to convert the unit of measure.
2️⃣ Press the first key to convert the function.
3️⃣ Switch to laser mode and press the MEASURE button to use infrared light.
✅ Material: Plastic
✅ Size: 3 x 3 x 1in / 8.5 x 8.5 x 3.3cm
✅ Powered:  4 x AAA Batteries (NOT Included)